In 2014, Isaac Jonas had left his small village in Zimbabwe to study for a master's degree in food and resource economics at the University of British Columbia, Canada. The following year he attended the Skoll World Forum through the Emerging Leaders Initiative—a pivotal moment in his path to launching Impact Africa Trust, a not-for-profit organization that partners with young people who aim to launch business ventures but lack access to capital.
"The Skoll World Forum would turn out to be my life game changer," he wrote in his book The Serendipity of a Great Network. "Outstanding though, was the open heart of every delegate I met at the Forum. I quickly realized that, everyone no matter which part of the world they hailed from was doing something positive for global development."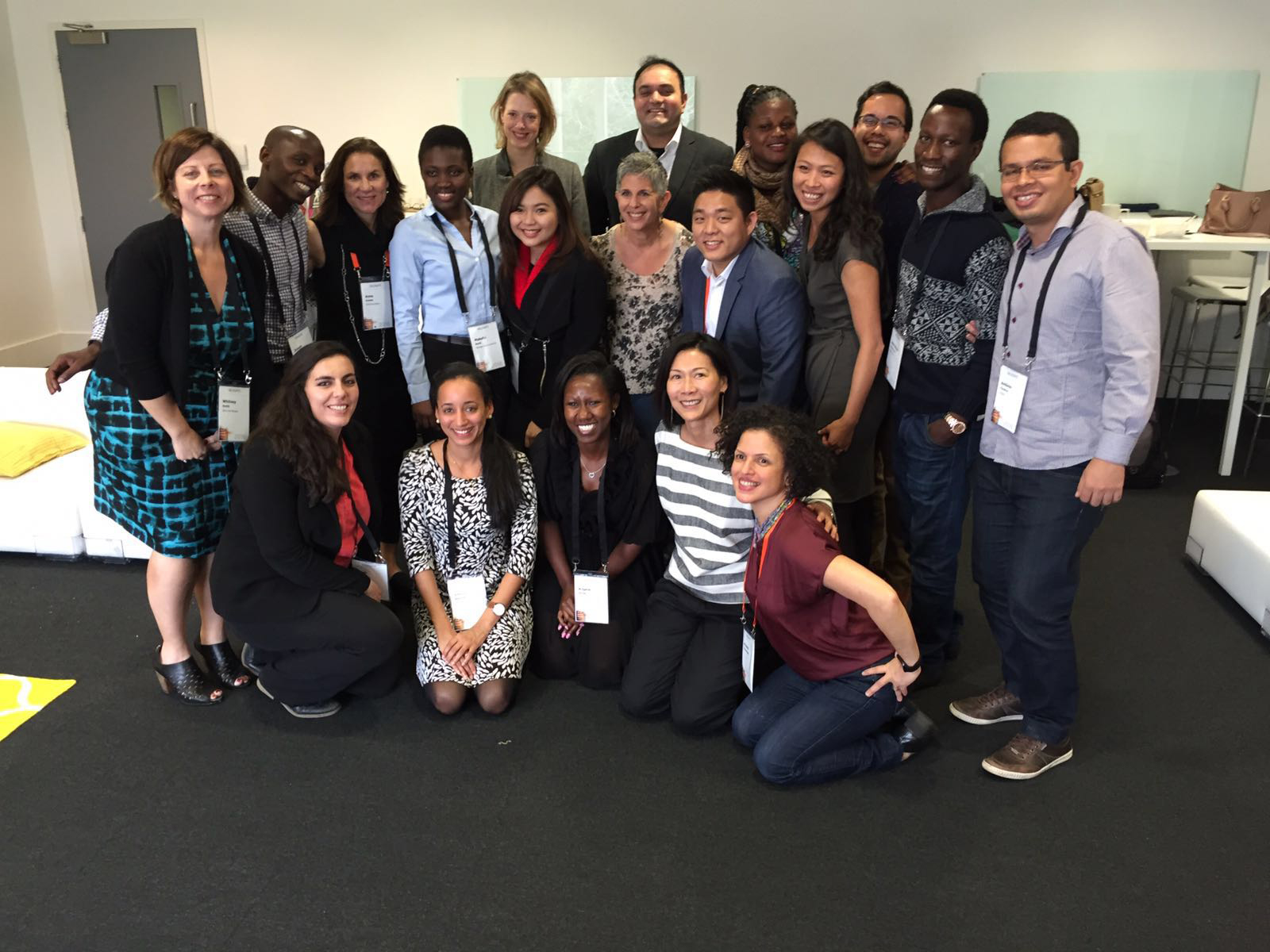 2016 Emerging Leaders Cohort
The Forum, he found, is designed to maximize the potential for those moments of serendipity that can prove to be career milestones. It was in Oxford that he met Dalumuzi Happy Mhlanga, Founder and Director of Lead Us Today, who became one of Impact Africa Trust's first champions and an early board adviser. It was in Oxford that Jonas learned first-hand the power of a great network.
As we look ahead to the Skoll World Forum in Oxford this April, we are pleased to introduce the twelve individuals selected to participate in 2017 Emerging Leaders Initiative.
Now in its fourth year, the Emerging Leaders Initiative brings together the next generation of social entrepreneurs from around the world. Selected and supported in partnership by the Skoll Foundation and The MasterCard Foundation, the Emerging Leaders represent the great potential and passion existing in social entrepreneurship's future leaders, addressing a wide range of issues like energy access in sub-Saharan Africa and the links between corruption and natural resource exploitation.
Cohorts are selected from those already demonstrating leadership qualities and making significant efforts to bring social change in their communities. The primary goal of the Emerging Leaders Initiative is to create a tailored learning experience to develop relationships and resources that extend well beyond the Forum that will help grow their impact on the communities they serve.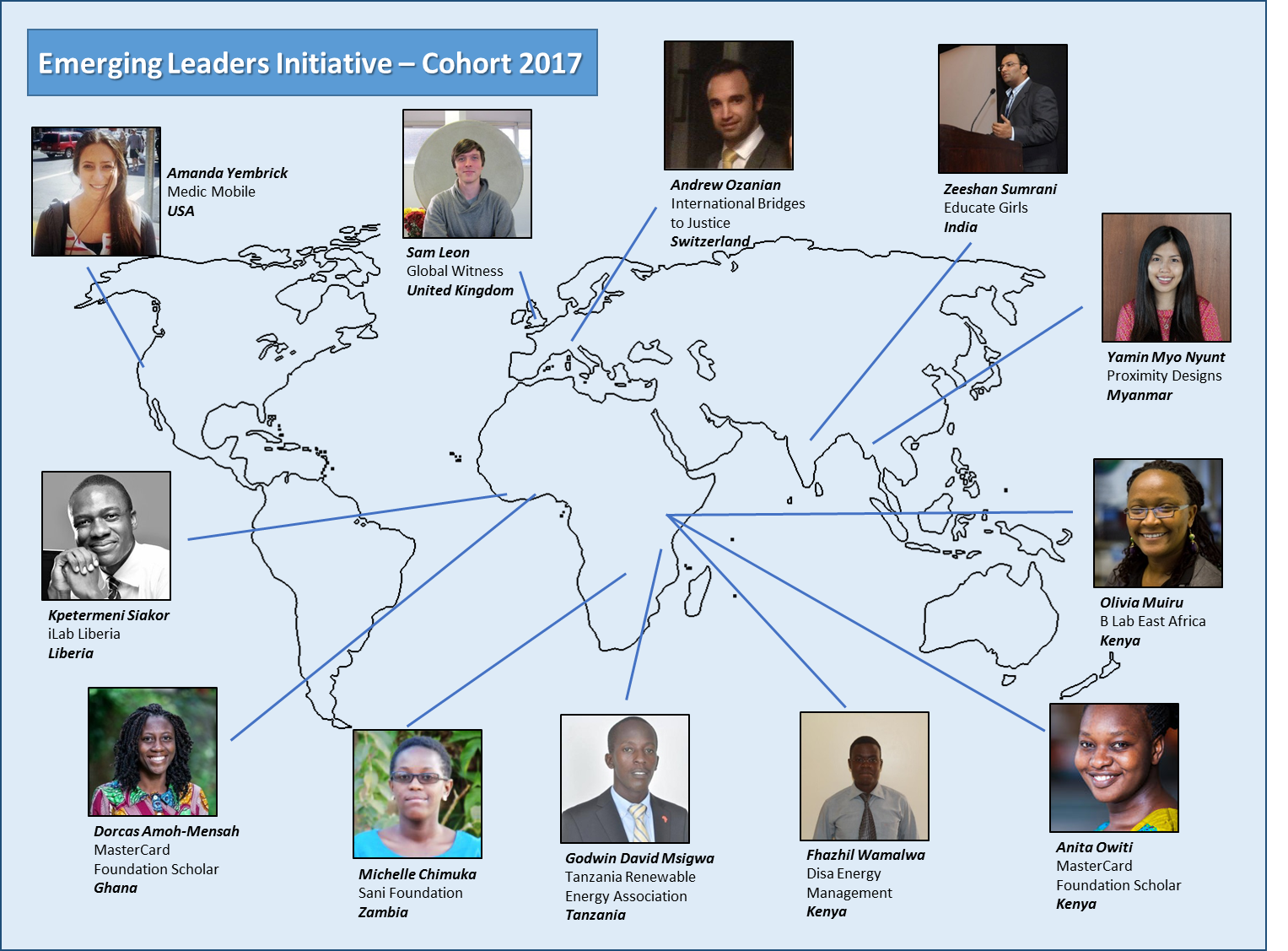 The Skoll World Forum, the premier international platform for social entrepreneurs, works to broaden the scope of civil discourse and create common ground to share disparate viewpoints, cultural contexts, and unique innovations to move human progress forward. Diverse, young voices are integral to this discourse—it is essential that the social entrepreneurship community provide more global opportunities for emerging leaders to share their voices among global policy shapers and thought leaders. The Emerging Leaders Initiative is one such opportunity to integrate these leaders in global conversations, amplify their voices, and equip them with the opportunities and resources needed to achieve ecosystem level change.
2017 Skoll World Forum Emerging Leaders:
Delilah Anita Owiti, Edinburgh University, Kenya
Michelle Chimuka, Sani Foundation, Zambia
Sam Leon, Global Witness, United Kingdom
Dorcas Amoh-Mensah, Edinburgh University, Ghana
Yamin Myo Nyunt, Proximity Designs, Myanmar
Godwin David Msigwa, Tanzania Renewable Energy Association, Tanzania
Olivia Muiru, B Lab East Africa, Kenya
Andrew Ozanian, International Bridges to Justice, Switzerland
Kpetermeni Toquoi Siakor, iLab Liberia, Liberia
Zeeshan Sumrani, Educate Girls Foundation, India
Fhazhil Wamalwa, Disa Energy Management Ltd., Kenya
Amanda Yembrick, Medic Mobile, USA