Disease Surveillance App Wins Converts in Thailand
July 29, 2016
Recently I joined the pandemics team from the Skoll Global Threats Fund (SGTF) in Chiang Mai, Thailand, to spend a week learning about disease surveillance and how it's used to detect threats to human and animal health. This was the culmination of a two-year partnership with Chiang Mai University, and brought 30 partners together to learn about the effectiveness and potential of participatory surveillance.
Ranju Sharma, the Asia Regional Designer for Skoll Awardee Medic Mobile was one of the participants. She was there to learn about best practices for disease surveillance and to see how her organization could better integrate mass participatory surveillance into its work. Until now, Medic Mobile has focused primarily on supporting community health workers.
The mission of the SGTF pandemics team is to decrease the likelihood of a pandemic event—an epidemic of infectious disease—by shortening the time from initial outbreak to detection. Through innovative approaches, such as participatory surveillance tools, data is captured significantly faster, which leads to earlier detection of disease outbreaks in human and animal populations. With earlier detection, partners can quickly act to contain an outbreak.
The first day of our session covered the detection process and how participatory surveillance works. We were introduced to Participatory One Health Disease Detection (PODD), which is the smartphone app that volunteers use to collect data and triage potential outbreaks for local government officials.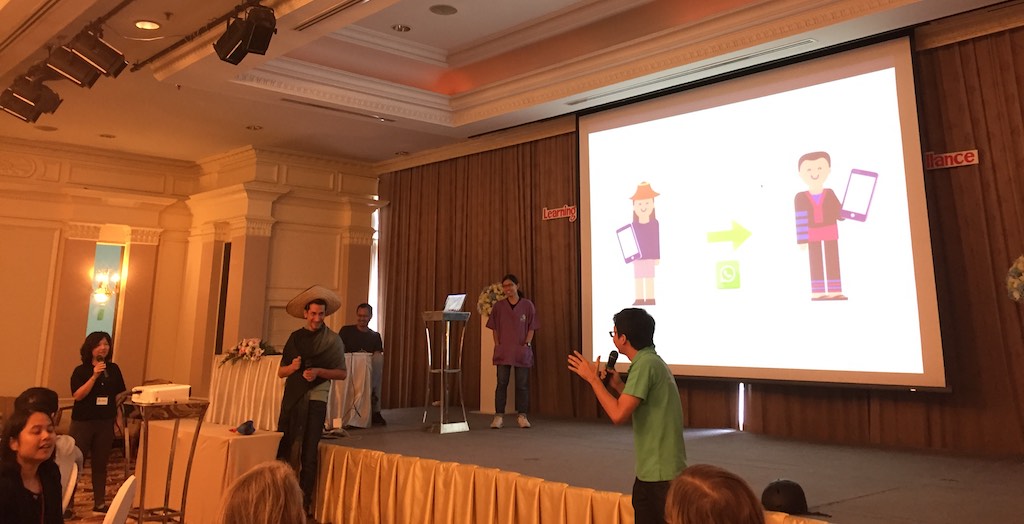 Participants role-play the containment of a disease outbreak, beginning with the death of a sick animal.
Local leadership plays an essential role
The process always starts by engaging the local government leaders. It's essential that leaders commit to responding to potential outbreaks and delivering treatment.
When SGTF and its partners bring the PODD project to a new sub-district, animals are the focus, because it's easiest to show the benefits of addressing threats to animal health. Once the value of the project is demonstrated and trust is built, human health and environment tracking are added.
The first PODD training two years ago was delivered to 300 people. Since then, the project has recruited over 4,000 volunteers.
On the morning of the second day we spoke with volunteers and officials from the local governments that are implementing the PODD app. It was interesting to see how each sub-district customized PODD to meet their needs.
Afterwards, a big ceremony was held to officially transfer ownership and responsibility for PODD from Chiang Mai University to the local governments. The university president was there, along with the governor of Chiang Mai Province.
Local governments will continue to use PODD after the project ends because they understand that the cost associated with it is nominal compared to the cost of an outbreak.
App does more than help contain outbreaks
PODD has done more than just collect data. Volunteers and villagers say they're now much better educated about animal and human health risks, and environmental problems, and how to treat and prevent them.
On the third day we went on a site visit to see how PODD works at the municipality level. We visited a few villages where PODD tracking occurs, and a local official explained how an outbreak years ago killed an entire village's chicken population. Thanks to PODD, a similar outbreak last year was contained to just two houses.
It was encouraging to see the high level of investment in PODD. Everybody could see the benefit of the technology, even if they weren't benefitting from it directly. They recently started using PODD to track flash floods, which are really problematic in sub-districts with lots of hills.
With PODD fully integrated into Chiang Mai Province, Phase II of the project will be to implement it across the other provinces of Thailand. Expansion into other countries is also being explored—potential partners from Malaysia, Indonesia, and Vietnam were part of the trip.